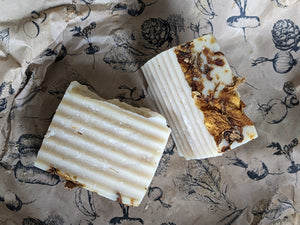 Approximately 3.3 oz Hand Cut bar
This is a shampoo soap bar, it is good head to toe: for your hair, skin, full body, etc.
Using our own goat's milk, locally sourced lard,  bergamot-sandalwood-lavender-lemon essential oils, and sustainable oils (coconut oil, sunflower oil, olive oil,) water and lye come together to create this wonderful lathering shampoo and body bar. No more plastic bottles!
Banish your worries, bugs, and negative energy with this uplifting scent combo!
Also have small spooky shapes as well as mermaids and bee ovals available.